Language school for young and young at heart
What do you get with us?
individual language courses for German, English and other languages
Intensive and individually tailored learning content
Classes in the immediate vicinity
qualified teachers:inside with experience
individual language courses for German, English and other languages
With us you can learn German, but also English or Spanish. Do you need a completely different language for your next vacation? Feel free to contact us! Our teachers teach many different languages. Surely your desired language is also included! Our individual and couple courses take place in all conceivable variations.
Intensive and individually tailored learning content
The best way to learn a language is in a small group and together with friends or acquaintances, in pairs or threes. In this way, the teacher can not only increase the intensity of learning, but also optimally adapt the lessons to the wishes and needs of each individual. Language skills can rarely be forced into an existing framework:
What does A1.2 or C1.1 mean?
The reasons for learning a language are also often very diverse. Would you like to talk to your colleagues in your job? Or do you finally want to understand what the pluperfect is? For this you need a language course that can do just that, and maybe a little more. With us, you can and should help determine the content of your course.
Classes in the immediate vicinity
Of our 11 locations in Bremen and the surrounding area, one is definitely near you. You will find the most extensive range of courses in the following three locations: in Delmenhorst, Burglesum and Bremen-Mitte. Do you live next to one of the other sites? Something can be done about that, too. Talk to us and we will find a way.
Do you prefer to learn at home from your sofa? Then an online course might be a good fit for you.
qualified teachers with experience
Especially in small group lessons, the atmosphere and togetherness are of great importance. If the chemistry is right, success in language learning will not fail to materialize. Neither our English nor our German teachers are all native speakers. Being a native speaker is often not enough to open up a new and often completely foreign language to someone in all its facets. You have to understand and love the language through and through to be able to bring it to others. Professional qualifications are just as important as experience and motivation. Our teachers share with you their love for the language and for the country whose gates need to be opened.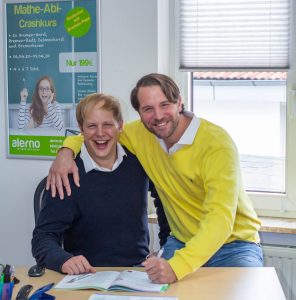 We offer individual support and convey "fun in learning".

Through consistent action and positive reinforcement, we help our students overcome learning resistance in the long term and achieve a sense of achievement.
Erik and Gerrit Hollander, alerno founders
Successful concept of the alerno language school
1. individual consultation
During your personal consultation, we will discuss your learning plan with you so that you can optimally achieve your learning goals at alerno.
Your learning plan includes:
Your current language level

(If required, we will perform a free placement test).

Your learning goals and the time until you want to reach them

Selection of the appropriate course and lecturer

Offer
2. regular performance reviews and learning progress reports
Whether you learn in a group course or in private lessons, we continuously monitor your progress. You will receive regular progress reports via this. These can help you decide, for example, whether you are ready for a language test.
3. qualified lecturers and instructors
All foreign language instructors at alerno go through a rigorous selection process in which their ability to teach foreign languages is assessed according to our quality standards.
4. learning in a relaxed atmosphere and at eye level
For optimal learning success, all course participants must feel comfortable with us. Do not be afraid! You are not the only person who has to deal with stress at work or at home, for example, in addition to a language course. Our qualified instructors teach you at eye level and help you.
We catch you!