alerno tutoring and language school
Tutoring in all school subjects for every school year, every graduation and every age.
alerno – Always near you!
Learn languages one-on-one or in pairs with a friend.
One of our eleven locations is also near you!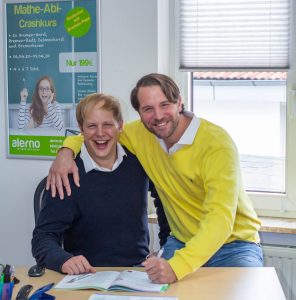 We offer individual support and convey "fun in learning".

Through consistent action and positive reinforcement, we help our students overcome learning resistance in the long term and achieve a sense of achievement.
Erik and Gerrit Hollander, alerno founders
alerno as a tutoring school
We help students to overcome inner resistance and to develop self-confidence and joy in learning by experiencing learning success.
Tutoring can only be successful in the long term if the student has the willingness to change her learning behavior. Our mission is to accompany and support the student in this process.
Through agreed learning goals, consistent feedback and commitment, competent, individualized tutoring, a friendly learning atmosphere, and regular feedback on learning development, we help the student achieve learning success. Through the experience that it is worthwhile to persevere and overcome arises "Fun in learning!" – our motto.
At alerno we offer tutoring in all school subjects (math, German, English, …) and professional learning training for reading and spelling difficulties (LRS) and dyscalculia. Tutoring takes place at one of our eleven locations in Bremen, Bremerhaven and Delmenhorst, at one of our many partner schools or online.
alerno as a language school
In our language courses, participants can improve their knowledge of German, English and many other languages.
Language courses take place close to home, in one of our eleven locations in Bremen, Bremerhaven and Delmenhorst. This means that the participants do not have to travel far and can comfortably integrate the language lessons into their everyday lives.
Classes are held individually or in pairs and are tailored to the student's learning speed, content and level of proficiency.
At fair prices, the language course can begin at short notice – without a minimum term. On request, we will also be happy to prepare an individual offer for companies and small groups. If desired, the language course can also be done online.