1. individual consultation
During a personal meeting we will discuss your school situation.
You will receive a free tutoring recommendation and decide if you want to try tutoring at alerno for free.
2. qualified teachers
All tutors at alerno go through a rigorous selection process in which their ability to provide tutoring is assessed according to our quality standards.
3. motivation through joint learning
Even in small group lessons (3-5 people) you will be taught individually by your teacher at alerno, just like in private lessons. However, learning alone is only half as much fun as when you have a study date with your study group. This motivates and leads to a greater willingness to learn.
4. flexible learning and extra help before class tests
The shoe pinches and you want to improve as quickly as possible in school? This is possible with alerno! For example, you can start with two to three tutoring appointments a week and reduce to one tutoring appointment a week as early as the following month. To ensure that your classwork is a success, you can come to us for free tutoring once a month, e.g. before your classwork.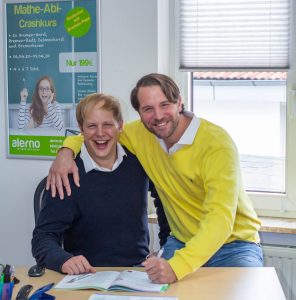 We offer individual support and convey "fun in learning".

Through consistent action and positive reinforcement, we help our students overcome learning resistance in the long term and achieve a sense of achievement.
Erik and Gerrit Hollander, alerno founders
1. welcome culture
Every student should feel comfortable and taken seriously at alerno. Appreciative and respectful interaction promotes a positive learning atmosphere.
2. consistent action
Successful learning support helps students get over themselves to reliably attend appointments.
Consistent feedback to parents and guardians helps in this regard.
3. learning coaching to achieve self-set learning goals.
Self-reflection on one's learning situation and setting learning goals.
The recommendations for action result from self-reflection. The achievement of these targets is monitored on a monthly basis.
After the successful implementation of the recommendations for action, there is a new self-reflection. This results in newly adapted recommendations for action.
➜ The goal is for students to become aware of their own learning situation and set their own goals. Achieving small-step goals leads to a sense of achievement, which in turn positively influences the willingness to learn.
4. an excellent learning support in terms of content
Tutoring at alerno is individually tailored to the needs of the students, regardless of whether it is one-on-one or small group tutoring. In addition to "normal" tutoring in all common school subjects, alerno offers special learning trainings. These include reading training, spelling training, and math training.
5. regular satisfaction surveys for the optimization of learning support
The students always have the opportunity to express praise, suggestions and criticism to alerno. Several times a year, students are asked to do this.
➜ Feedback by the students enables continuous adaptation of the processes to the students' wishes.
Moreover:
Tested and guaranteed quality. Alerno is ISO 9001 and AZAV certified.