Dear schools in Bremen and Lower Saxony,
alerno is an AZAV and ISO 9001 certified tutoring and language school with eleven locations in Bremen, Bremerhaven and Delmenhorst. We have over 18 years of experience in the field of learning support and work successfully with numerous schools throughout the city of Bremen as well as in Delmenhorst.
Where does the learning support take place?
The learning support takes place in our locations or by arrangement directly in the school or in another institution (e.g. in the after-school care center) statt.
Who can participate in learning support?
Any student can take part in the learning support at our location.
In schools and other institutions we offer exclusively subsidized tutoring an. In most cases, this is financed through the Bremen Pass or Bildung und Teilhabe (BuT). Funding through other programs may be available by arrangement.
How can students be registered for learning support?
Registration for students with a Bremen Pass is done via our Bremen Pass registration. The registration confirms the student's need for support and ensures that a valid Bremen Passport is available.
Self-pay:ers may register independently at the location of their choice without proof of school.
What is the scope of learning support for students with Bremen Pass or BuT?
Students with Bremen Pass or BuT are entitled to 90 minutes of learning support per week in each subject. The need for support must be confirmed by the school.
Self-payers can be advised about the possible offers at one of our locations.
What learning support services are available?
We can offer the following courses:
individual learning support in small groups or in private lessons for all classes, subjects and school types

DaZ/DaF courses (German as a second or foreign language)

Final courses for all classes and school types

Vacation courses

Conversation courses (English, French, Spanish)

Reading and spelling training (alerno is a partner of the Lernservers Münster)

Numeracy training (Tigro - Center for Learning and Learning Disorders of the Institute of Psychology of UMIT in Tyrol)
We are happy to meet the individual needs of your students and, depending on their needs, also offer courses with a self-selected focus, such as reading comprehension, grammar or basic arithmetic.
Are there special offers in the area of reading and writing or LRS?
alerno is a partner of the learning server. This is targeted, individualized spelling support. After a spelling test, a support plan is created specifically for the student. A coordinated collection of materials is then worked on during the tutoring sessions and supplemented with learning games.
The offer is suitable for both students with and without dyslexia. Attention: alerno does not diagnose dyslexia. This must be done in advance.
What requirements must the student fulfill in order to participate in "BuT-financed tutoring?
The household in which the student lives receives state benefits, such as child allowance, unemployment benefit II ("Hartz IV"), asylum seeker benefits, social assistance, housing allowance, social benefit. In Bremen, the school verifies the existence of a valid "Bremen Passport". In most other federal states, the social welfare office or job center checks whether the requirements for receiving benefits are met.
The student is no more than 25 years old.
A need for support for one or more school subjects must be confirmed by the school. A need for support exists if any of the following apply:
A deficient or unsatisfactory performance history or one tending toward the grade of "deficient."
Assessment of performance in the mid-year report with "deficient" or "insufficient",
Identify a short-term significant drop in performance,
Jeopardizing the achievement of the class goal,
The prospect of reducing learning deficits through recommended learning support.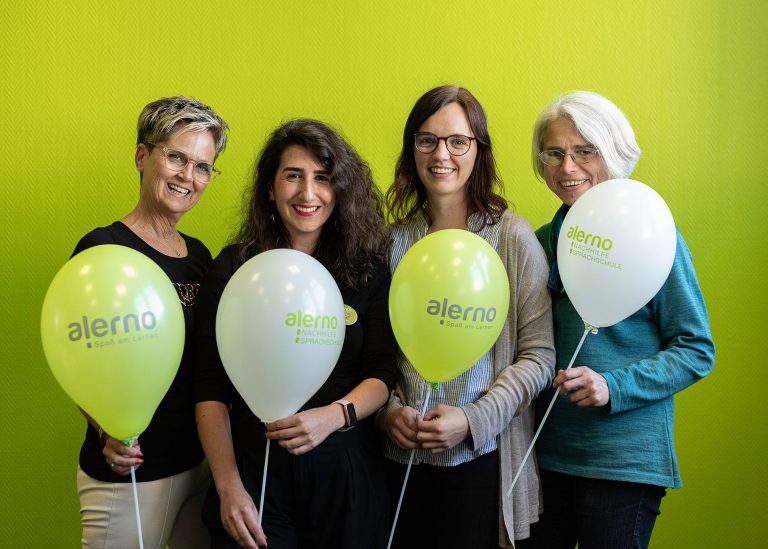 Cornelia Brandes, Duygu Rengial-Wenck, Merlind Winkelmann, Ilze Dzene (from left to right)